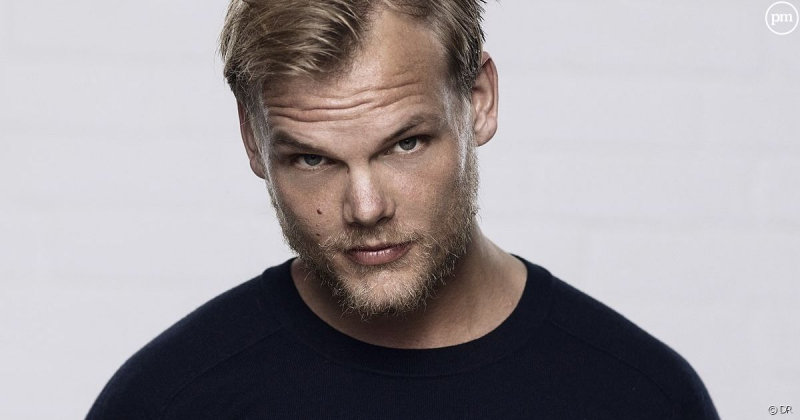 Today i'm so grateful to write the article about one, as far as EDM's concerned, the world's greatest inspiration of this century.
If you already read my previous article in French : https://jeremyfulep.com/avicii-nest-pas-mort/ , you may already know that Avicii's next album « TIM » will be released on June 6th 2019.
In this article, i gave mainly facts about Avicii's ultimate album coming up, as well as some piece of information about « SOS », the last track from Avicii released last month. This tune reached no more than 27M views on YouTube (see Fan Memories Video) and over 101M listenings on Spotify. Avicii continues getting so much consideration and influence, even after his tragic death in April 2018.
New track to be released on May 9th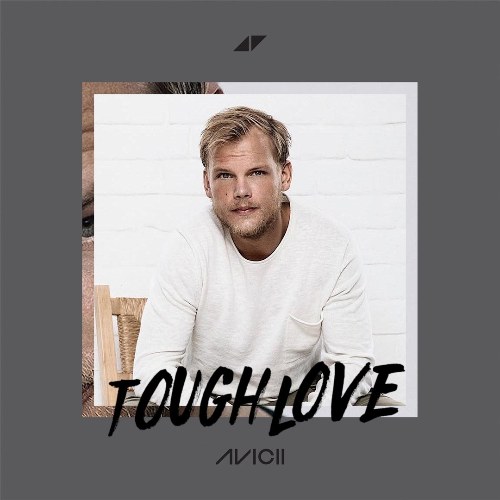 The staff working along with Avicii gave us the amazing opportunity to listen to two amazing tracks before the official release of the album coming up on June 6th. Last month is was « SOS », featuring Aloe Blacc, the singer that sang one of the most popular EDM track of all time : « Wake Me Up » (2013).
Today we are getting the chance to listen to another incredible tune « Tough Love » (feat. Agnes, Vargas & Lagola). The song was leaked one day before the official release, you may listen to here just on the .mp3 player below. For the moment, we have two tracks confirmed, as well as a third one « Peace of Mind » (source : Wikipedia)

Vargas (Vincent Pontare) & Lagola (Salem Al Fakir) are both incredibly talented songwriters that have been co-writing many EDM songs for more than 7 years. They namely wrote for Swedish House Mafia, David Guetta, Galantis, Madonna, Seinabo Sey, Katty Perry and obviously, Avicii. Here are a list of EDM tracks that I particularly enjoy that they worked on :
Swedish House Mafia
– « Save the World » (2012)
Avicii – « Silhouettes » (2012), « You Make Me » (2013), « Hey Brother » (2013), « The Days » (2014), « Waiting for love » (2015), « Friend of Mine » (2017), « Without you (feat. Sandro Cavazza) » (2017)
Galantis – « Smile » (2013), « Help » (2014), « You » (2014), « Gold dust », Kill the with the love », « call if you need me » (album : Pharmacy (2015))  
David Guetta – « Bang my head (feat. Sia) » (2014)
Axwell Λ Ingrosso (former known as the group Swedish House Mafia) – "More than you know", "Sun is shining" (2017)
Avicii wanted this track to be a "duet" (see Tim's textmessage below) and so songwriter Vargas (Vincent Pontare) decided to call his wife, Agnes Carlsson to be the other voice of this amazing track.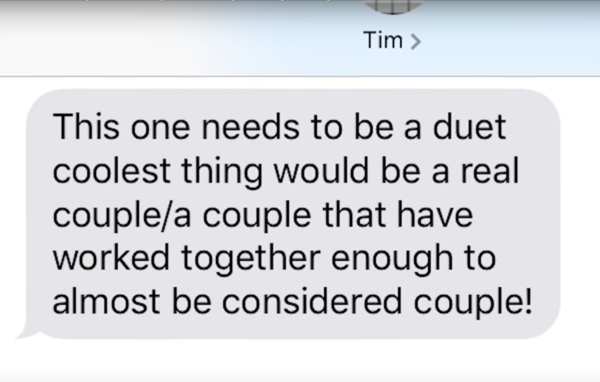 As well as the track "SOS (feat. Aloe Blacc)", the staff wanted to be as closed as possible to tim's demo. Also, 80% of the track was done before the official release.
Vincent Pontare (Vegas) states that this track has some kind of Indian and Arabic influence, with some hop-hop oriental vibes.
That's basically what I loved in Avicii. He had his amazing own style and was always eager to bring some kind of freshness on his tunes. According to Vegas, Avicii was indeed a "melodic genius".
Chris Martin from Coldplay also loved the track before the voices were on it and this one suggested straight away to add some vocals for it to be even cooler, which they did.
Avicii's track "Heaven" (feat. Chris Martin) leaked

If you read last article, you may know that Avicii also had the opportunity to make a new track with the legendary singer Chris Martin from Coldplay. I have to admit that I had no idea that the track was leaked in high quality when I wrote the article last month. All I knew is that the track "Heaven" was officially displayed at Ultra Taiwan 2018 by Nicky Romero.
However, after some research on the internet, I found a source in which you can listen to the final version of the track in high quality. Feel free to enjoy this delicious track here. That's all the amazing news we have for now, but we may already enjoy those three amazing tracks (SOS, Tough Love and Heaven) before the official release of the album. I dare to say that I may listen to that tunes a hundred times before the official release of the album next month… Stay tuned!
Tracklist for the album "TIM" revealed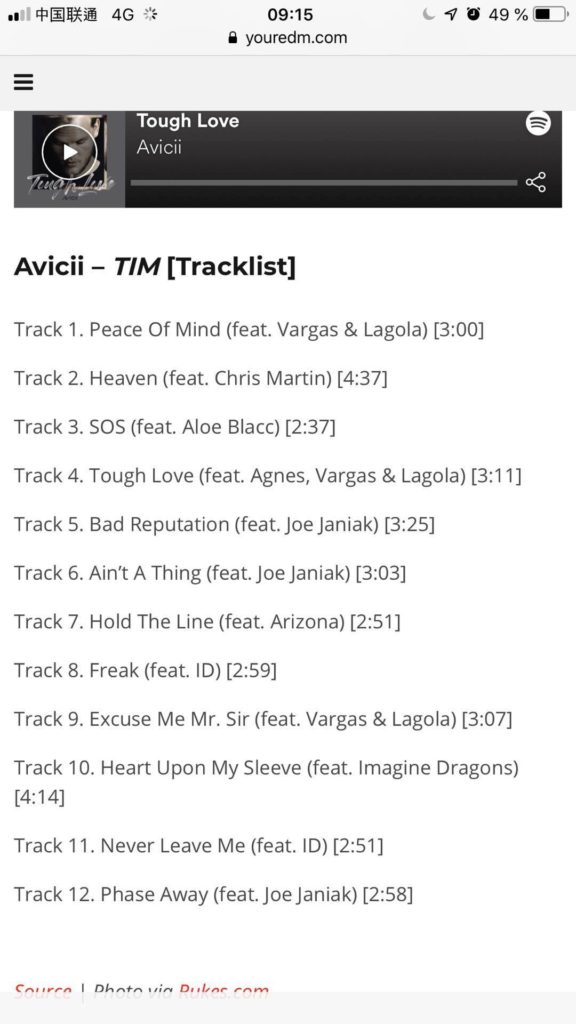 The official tracklist for the album "TIM" has also been leaked on the internet. We can notice that Vargas & Lagola have greatly contributed in producing musics for the album, as 3 songs were produced by them in total. Oddly enough, we will be finding a tune featuring Imagine Dragons "Heart Upon My Sleeve". This one frankly quite intrigues me, as the latter was already done on Avicii's first album "True" back in 2013. Maybe it will be another one, or a remake. If you do know more about this, feel free to share it in the comments below.
However, i'm EXTREMELY excited to notice that a song featuring A R I Z O N A will be released ! (Track no.7). They are simply part of my favorite non-EDM group of all time. I notably talk a little about them in this article.